Rev. Bob Hunter III

-

Felt the call on his life since the age of twelve; baptized in the Holy Spirit at the age of fifteen. Employed in many areas, until finally answering God's call midlife. Rev. Hunter is a graduate of Towson State University with a degree in Music Education, and a graduate of Wesley Theological Seminary with a Master of Divinity degree; with a concentration in eighteenth Century revival history. He currently serves as Pastor at Thurmont United Methodist Church, soon to transition into new ministry in Florida after twenty-seven years of local pastoral ministry.

Diana Ketterman Thorne is a mental health educator, counselor, speaker, and author. She is a certified Virginia award-winning teacher, a Mental Health First Aid Certified Instructor, Certified Grief Recovery Specialist and Pastoral Counselor. Diana brings a message of hope to the church, relating her personal experience to inspire others to run the race knowing that God works everything for our good.


***************************************************************************
 

June 22th 10am to 2pm


Emory Grove UMC 8200 Emory Grove Rd, Gaithersburg, MD 20877


Worship, Word, Wisdom
"Fulfil ye my joy, that ye be likeminded, having the same love,
being of one accord, of one mind...........................Let this mind be in you, which was also in Christ Jesus.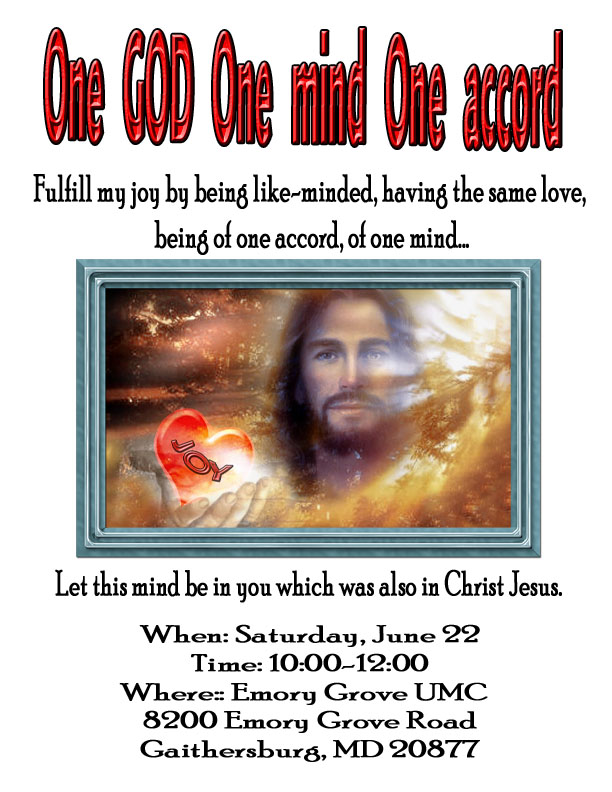 ***********************************************************************************